Atlanta Basement Waterproofing Services
Trust The Experts…Trotter offers Lifetime Warranties since 1929!
Basement Waterproofing * Crawlspace Waterproofing* Structural Repair * Drainage
Wet Basement? Trust the Experts! Quote Your Basement Foundation Cost Today!

A common challenge that homeowners face is water in their basements, basement moisture, or basement sump pump system issues. Not only is a wet, musty basement a pain to clean up, but it can also ruin other parts of the room. It can damage the walls in your basement and leave stains on your floors, or even cause mold to grow if left untreated.
At Trotter Company, our team of experienced waterproofers can perform a basement inspection of the basement drainage system and provide the best possible recommendations to keep it dry, permanently. Our team will also take the time to inspect your basement sump pump system and provide basement foundation cost.
If you'd like a free quote for repairing basement drainage system or basement sump pump system issues, basement moisture, or basement foundation cost, including wall moisture or floor cracks, contact us by phone or e-mail or just click on the red button above! We serve Marietta, Atlanta, Decatur, and surrounding areas.
Before the new Trotter System, all sub-floor basement drainage system and basement sump pump system flooded the soil under the basement floor with rain water, even ours. These "drain field" drains are perforated to allow water to flow in. It's simply how they work: water pours out of the weep holes in the wall and soaks the soil under the floor. It then builds up and flows into the perforated drain. The problem is this water soaking in weakens the soil. If your home is built on questionable soil or fill dirt, settlement issues will probably develop. The other problem is when the trenches are dug to install the drains beside foundation, the termite chemicals are removed with the soil and will likely result in the loss of your termite protection. The Trotter System does not disturb the termite barrier.
Some companies intentionally leave their system open at the wall to catch seepage trickling down the wall and usually do nothing to prevent evaporation and seepage from the masonry basement walls. The unfortunate side effect is constant moisture evaporation from under the floor back into the basement. If you finish a basement with this system in place, you will almost certainly have high humidity levels behind the finished walls, which can lead to mold. Only the Trotter System warrants no water or dampness from our basement system – a full 8 feet high on masonry walls! Trotter Company will be sure to fully inspect your basement drainage system.
What Issues Are You Seeing In Your Home?
If you've got any of the following in your home, you probably have a wet basement problem. It's best to address this ASAP since water in your basement can lead to other major problems.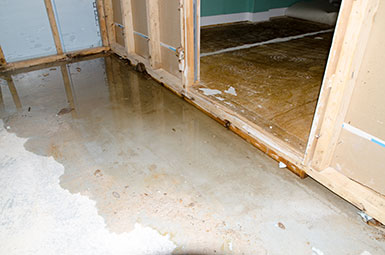 Water In Basement
Even small leaks can cause flooding in the future if left unfixed.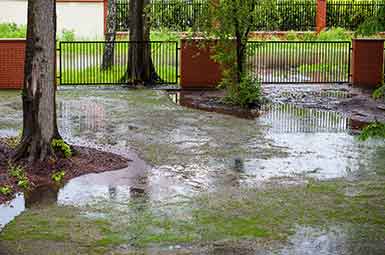 Ponding Water
Water ponding towards the house or running against it.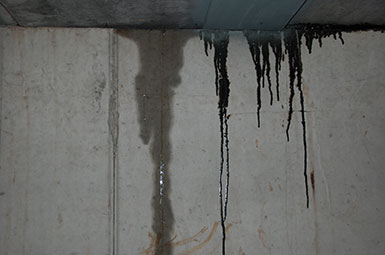 Wet Walls
You have an issue if you are seeing wet walls or water stains on the wall.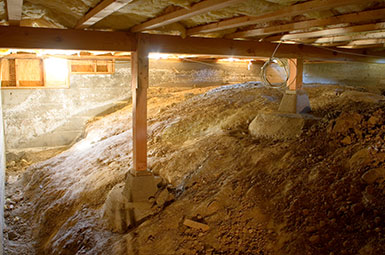 Musty or Smelly Basement
A musty smell could be a sign of mold growth, which could lead to a number of additional health issues.
The new 2014 patented Trotter Dry-Tec® System instantly collects practically every drop of seepage to keep the soil under your floor and foundation dry and protects your home like nothing else! Our new system works so well, not only do we warrant that you will have no water from our system, we even warrant no dampness from our system. How do we build such a perfectly sloped concrete drain? We're not telling. We've educated our competition for too many years! But we will tell you it involves patented laser-guided equipment and incredible precision.
The Wall Vapor Barrier controls seepage and vapor movement from the exterior through masonry walls until you are ready to finish your basement. Before you finish, we suggest you use our pre-finishing wall system to guarantee moisture and condensation-free finished walls. Note: basement walls must be properly insulated and have dual vapor barriers to prevent condensation behind finished walls.
Want to learn more?
Check out our library of videos to help you understand and diagnose your home of common foundation and leak issues. Follow us on YouTube for the latest videos, tips, & tricks.
Since 1929, More Than 100,000 Homeowners Have Trusted Trotter