Atlanta Crawl Space Waterproofing – Dry-Tec® Closed Crawl Space System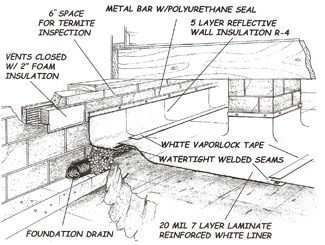 The debate in the building science engineering community over vented or closed crawl space has gone on for more than twenty years. The widely accepted, definitive study by Advanced Energy (advancedenergy.org), was started early 2001 with the final report published June 22, 2005.
Crawlspace Waterproofing Study
This field study was financed by the U.S. Department of Energy and clearly shows that homes in the southeastern United States will benefit in several important areas. This can be achieved by controlling rain water intrusion, closing foundation vents, sealing the earth (or concrete) crawl space floors, insulating exterior foundation walls, dehumidifying the closed crawl space area and providing make up air, if needed. The last two items on the list, dehumidification and make-up air are critical to the success of a closed crawl space. And the last item is life threatening if not done correctly! If not installed properly, a closed crawl space will destroy your home!
Atlanta Crawl Space Waterproofing Success
The observations made in this study have led to changes in the North Carolina building code as well as attitudes (including mine) toward closing the crawl space. Trotter Company's installations have confirmed dramatic improvements in relative humidity level, wood moisture content, heating and cooling cost. Advanced Energy's Cyrus Dastur continues the study of closed crawl spaces with a study to be released in late 2008 or early 2009 where closed crawl spaces are studied in diverse areas of the country.
Since 1929, More Than 100,000 Homeowners Have Trusted Trotter